Not much is known about the mysterious man they call Zeros. He comes and goes as he pleases, never defining himself officially as a bad guy, or good guy. (This causes much confusion for Lina Inverse.)

But what is known, is about Zeros, is that he is no ordinary man: he is of the Mazoku race, and is the general-priest of Greater Beast Zelas-Metallium (one of the Mazoku lords underneath Ruby-Eye Shabranigdu).

FACTOID: Even before becoming a Mazoku, Xeros had a reputation of being a trickster. He was a priest before, as well, and roamed the countryside with his bag of pranks, bringing trouble and good fortune wherever he went. Apparently, Zelas-Metallium liked him so much she brought him into her service, and even switching sides he hasn't lost his trickster nature, always seeming to prefer a good laugh to the 'proper' thing to do.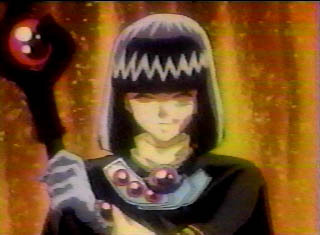 Click below for
Zeros'
---
---